Big cities are exciting and a lot of fun. They can also be intense. The noise, frenetic pace, and lack of space can take their toll. Imagine obtaining the solace and simplicity of life — and an amazing house — in a small town. You'll be close to outdoor pursuits, without giving up the good stuff, like fantastic restaurants, shops, music, and art. And you won't have to move to the suburbs.
Diverge Homes is making this idea a reality. We build communities for those looking for greater proximity to the outdoors, walkability to revived old towns, and smartly designed homes built for active families.
We are a new kind of developer. One that is laser-focused on small town infill as opposed to sprawl. We create neighborhoods that are truly a part of the towns they are in. Our Cannon Trail development in Lafayette is nearing completion, and we have more on the way in Erie, Steamboat Springs, and Golden. Diverge Homes is building townie life.
Diverge Homes by the Numbers:
1
Sculpture with 2000+ Mylar Tubes
1253
Plants and Trees Planted To Date
We are on a mission to rebuild America's small towns. We proudly diverge from industry expectations, believing that home builders should offer greater transparency, deep info sharing, high-touch service, and door-to-door neighborhood communication.
Diverge Homes believes in thoughtful development that enlivens our small-town communities. We hire local contractors, designers, and builders who know and care about the towns we build in. Our way may not be the fastest or easiest, but it's always the right way.
Our move-in ready homes are designed with smart, active lifestyles and families in mind. Community areas seek to inspire wonder and connect to the nature around them, with access to trails and open space, and amenities like pocket parks, native plant walks, and kinetic art installations.
Walkability and a Meaningful Connection to Nature
Our developments are either in quaint old-town districts or just nearby, so the car can stay in the garage when you're out for the day or for a night on the town. These small towns, with their picturesque Main Streets, are steeped in history while offering unique shops and restaurants that easily rival those found in bigger cities.
Likewise, each of our developments are near trails and/or parks and open spaces, so the best of Colorado is at your doorstep. And within all of our community areas, we design funky outdoor art and landscape that inspire and educate.
Cannon Trail
Lafayette, Colorado
Cannon Trail is our flagship development, and the high demand proves that we're onto something. It validates our mission that Diverge communities positively contribute to the small towns they're in. It also confirms our gut instincts about being completely open about what we do. Cannon Trail has clearly resonated with homebuyers looking for a better way to live.
We invested in Lafayette because we see how people enjoy the active Old Town district and we believe in its on-going potential. It's such a fun, diverse place to call home. With art galleries, restaurants, breweries, a theater, and a stellar children's museum, Lafayette offers everything you might want from a big city.
The Cannon Trail neighborhood includes 39 paired and single-family homes, and features pocket parks, a native plant walk, and a kinetic art installation. All within a five-to-ten minute walk to Old Town Lafayette, with it's wonderful shops and delicious restaurants.
The development lies next to the Coal Creek Trail, a beautiful, year-round biking and hiking path connecting Lafayette and Louisville. And the RTD Park and Ride is less than a mile away.
Click here to see available homes and a map of the Cannon Trail community.
Erie Junction
Erie, Colorado
Breaking ground in Summer 2023, Erie Junction is located in Erie's Old Town district, at the intersection of County Line Road and Balcolm. Erie Junction will feature 23 stunning homes (primarily duplexes), private backyards, and detached garages with a separate work space loft above it.
It is no surprise that Erie is rated one of the best places to live, not only in Colorado, but in the country. Erie has delightful places to eat, drink, and relax, great schools, and an excellent library. In terms of outdoor pursuits, Erie offers more than 1,300 acres of parks and open space, 58 miles of trails, and is an easy drive to Rocky Mountain National Park, Red Rocks, and more. And it's only 30 minutes from both Denver and Boulder. All further proof that the right type of small-town life won't sacrifice your access to the good stuff.
Click here to sign up to be notified on our progress and when homes are available.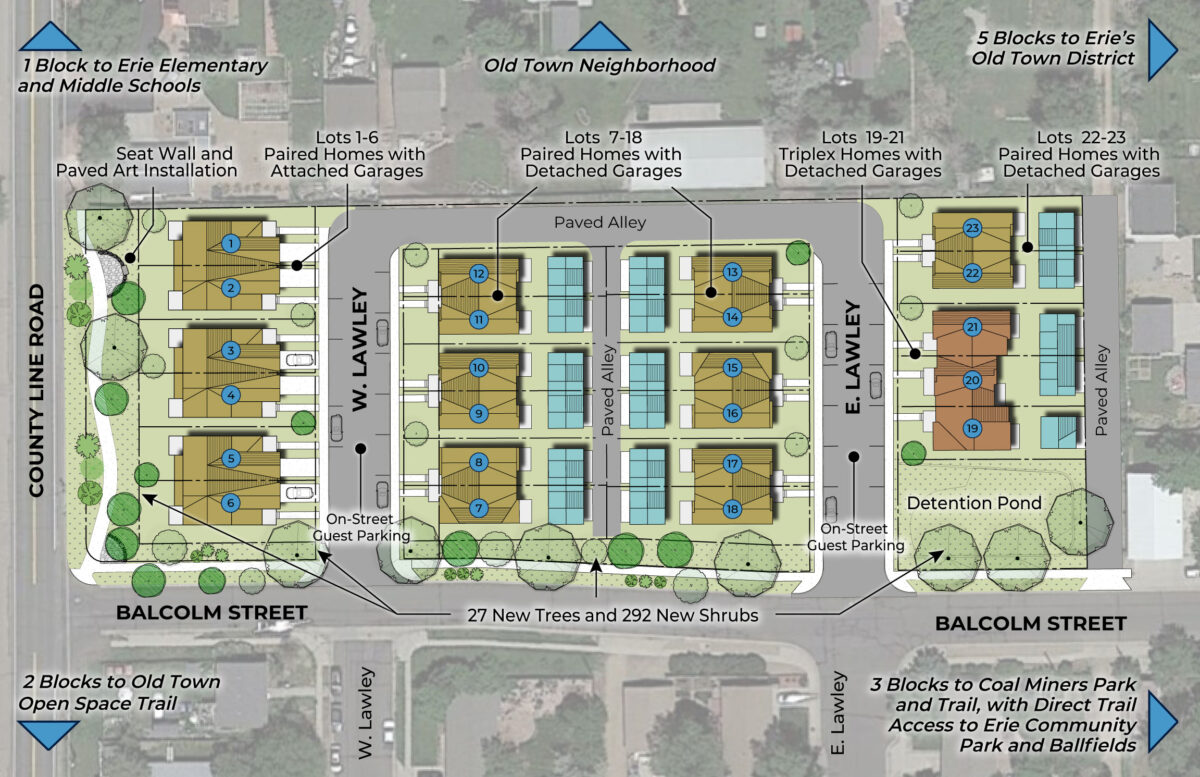 Preliminary Sketch of Erie Junction in Old Town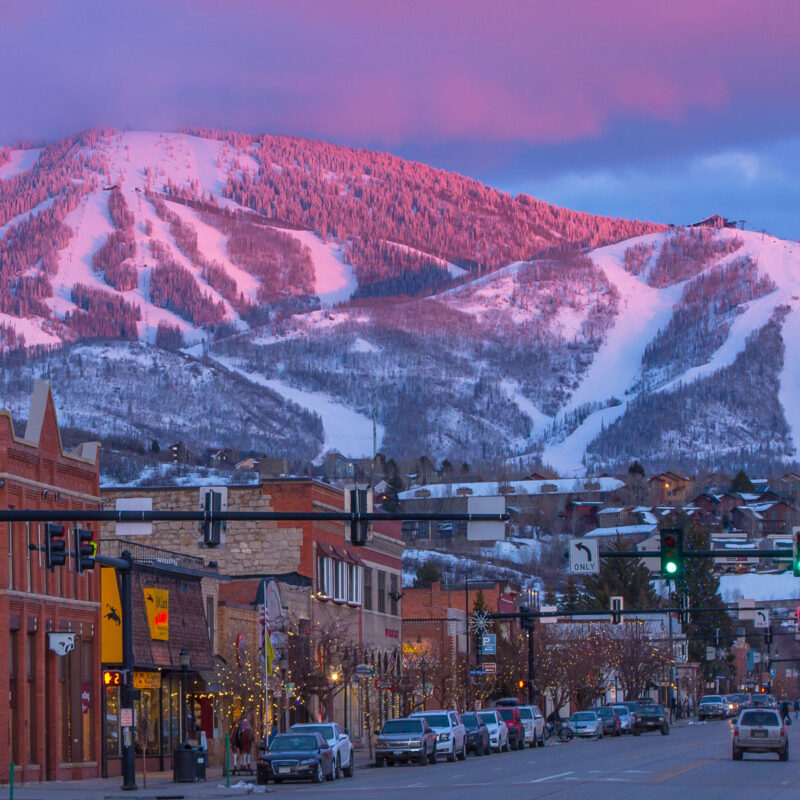 608 Yampa
Steamboat Springs, Colorado
We are excited to announce our new development in the heart of downtown Steamboat Springs. It's right across the street from the Yampa River and next to a small park (that hosts the weekly Farmers' Market during the summer). 608 Yampa will feature four well-sized condominiums, underground parking, and an exciting but as of yet unnamed retail storefront. The location affords forever views of the Yampa River, Howelsen Hill, and even Mt. Werner. 608 Yampa sits in the heart of the vibrant and fast-growing riverfront district, with all the restaurants, shops, and attractions that Steamboat Springs is known for.
For outdoor enthusiasts, it really doesn't get much better. Fly fishing the Yampa's best section is literally across the street, and you'll be a few minutes away from soaking in hot springs, skiing, hiking, riding, climbing, and cycling. Whatever it is that you love to do, it's here for you in Steamboat. Best of all, unlike many of Colorado's glitzy ski towns, Steamboat Springs retains its down-to-earth Western heritage.
Click here to sign up to be notified on our progress and when homes are available. Breaking ground in Fall 2023.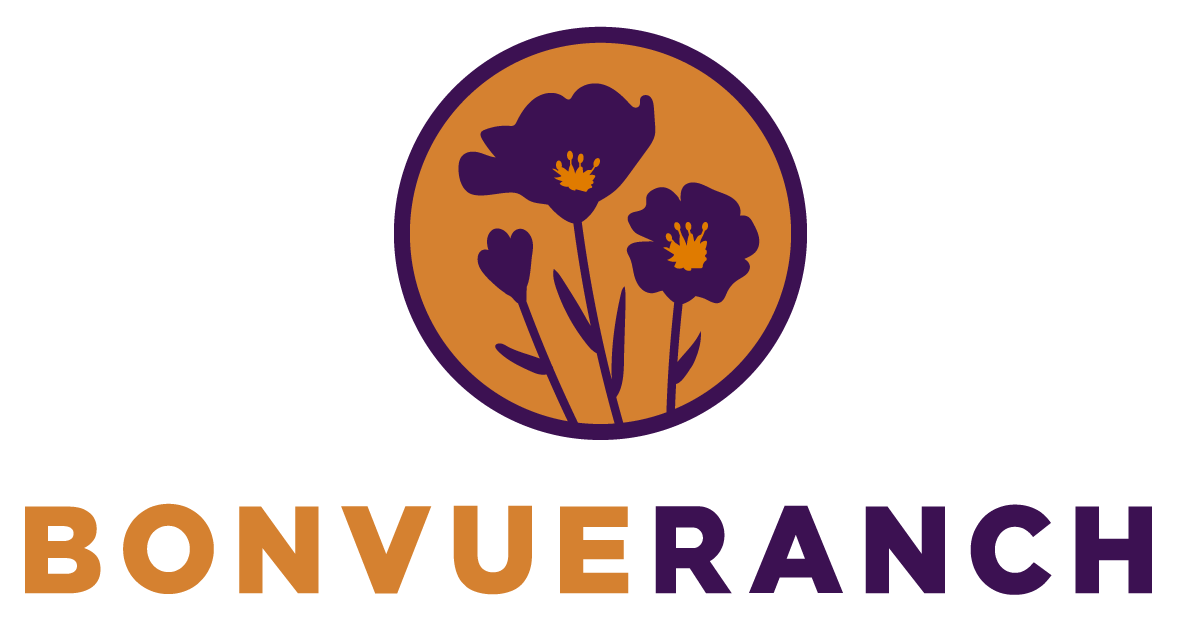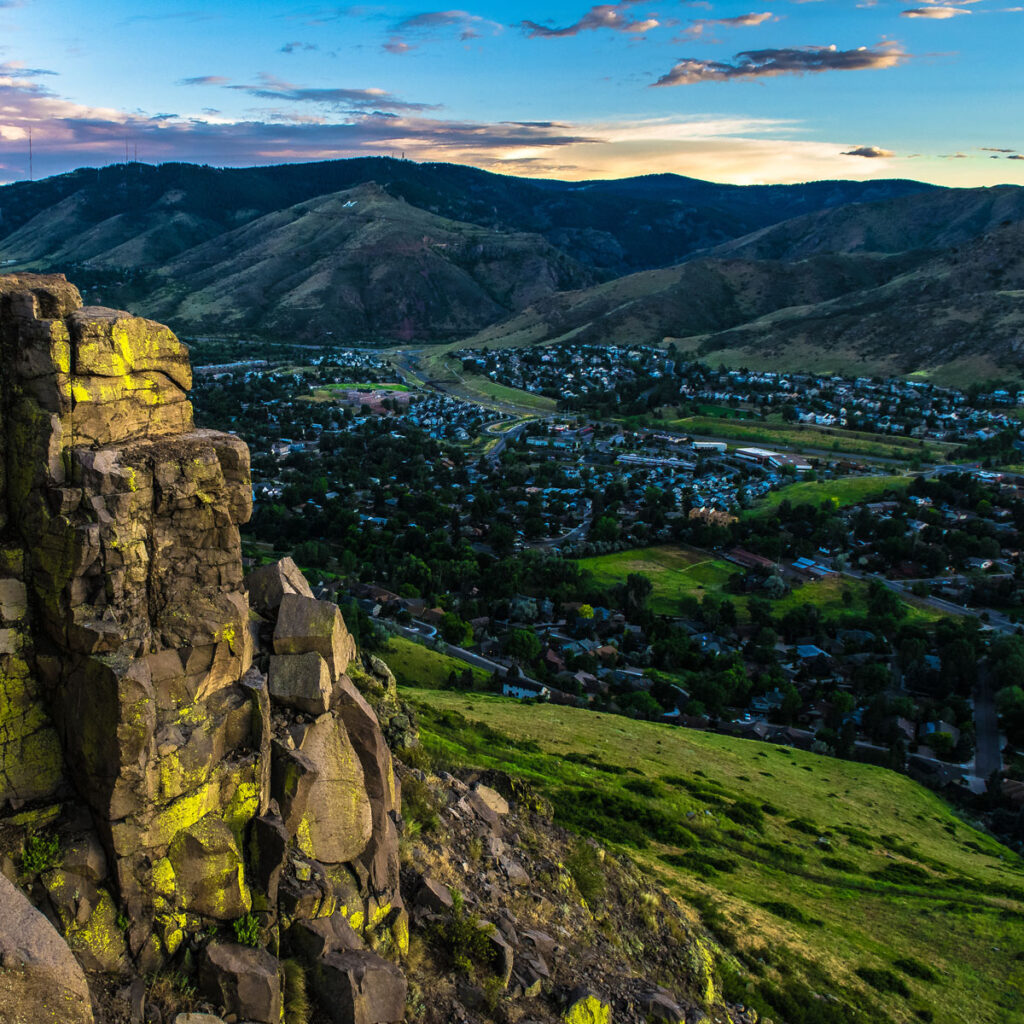 Bonvue Ranch
Golden, Colorado
With an enviable location just minutes away from Denver, Golden is the home of our latest project. Located at the foot of the Rockies, our North Table Mountain property has stunning views. The project is currently envisioned with 30 single-family homes. Trailheads are just a short walk away, so put together a day pack and the hike begins at your doorstep. The car stays behind.
Golden is one of the original communities of the American West, and this is still reflected in the city's character, even with its proximity to Denver. Buildings are heavy on stone and wood as opposed to steel, concrete, and glass. Golden has kept a level of diversity for architecture, retail, and restaurants that other towns envy.
There are several equestrian stables nearby, including one right across the street from our development. Hiking, climbing, biking, kayaking, skiing, horseback riding, as well as being near to good jobs, schools, and cities — there might not be a more perfect distillation of "Colorado living" than in Golden.
Click here to sign up to be notified on our progress and when homes are available. Breaking ground in 2022.
Marshall Fire Model Series
Louisville, Colorado
The Marshall Fire was a terrifying event for all of us and it was absolutely devastating for so many friends, neighbors, and colleagues. We unreservedly love this community and have worked hard to create a plan that will help our community quickly get back on its feet again. We aren't going anywhere. We are here for you and are ready to help. Now.
Diverge Homes is pleased to announce pricing and availability of our Marshall Fire Model Series homes. Our goal in designing these homes was to provide affected homeowners cost certainty, combined with the highest methods of structural integrity, finish quality, and speed of construction.
Our sincerest hope is that our beautiful Model Series homes provide respite from the tragedy of this fire and and that you will love your new home despite everything you have been through.
Click here for more information on our Marshall Fire Model Series.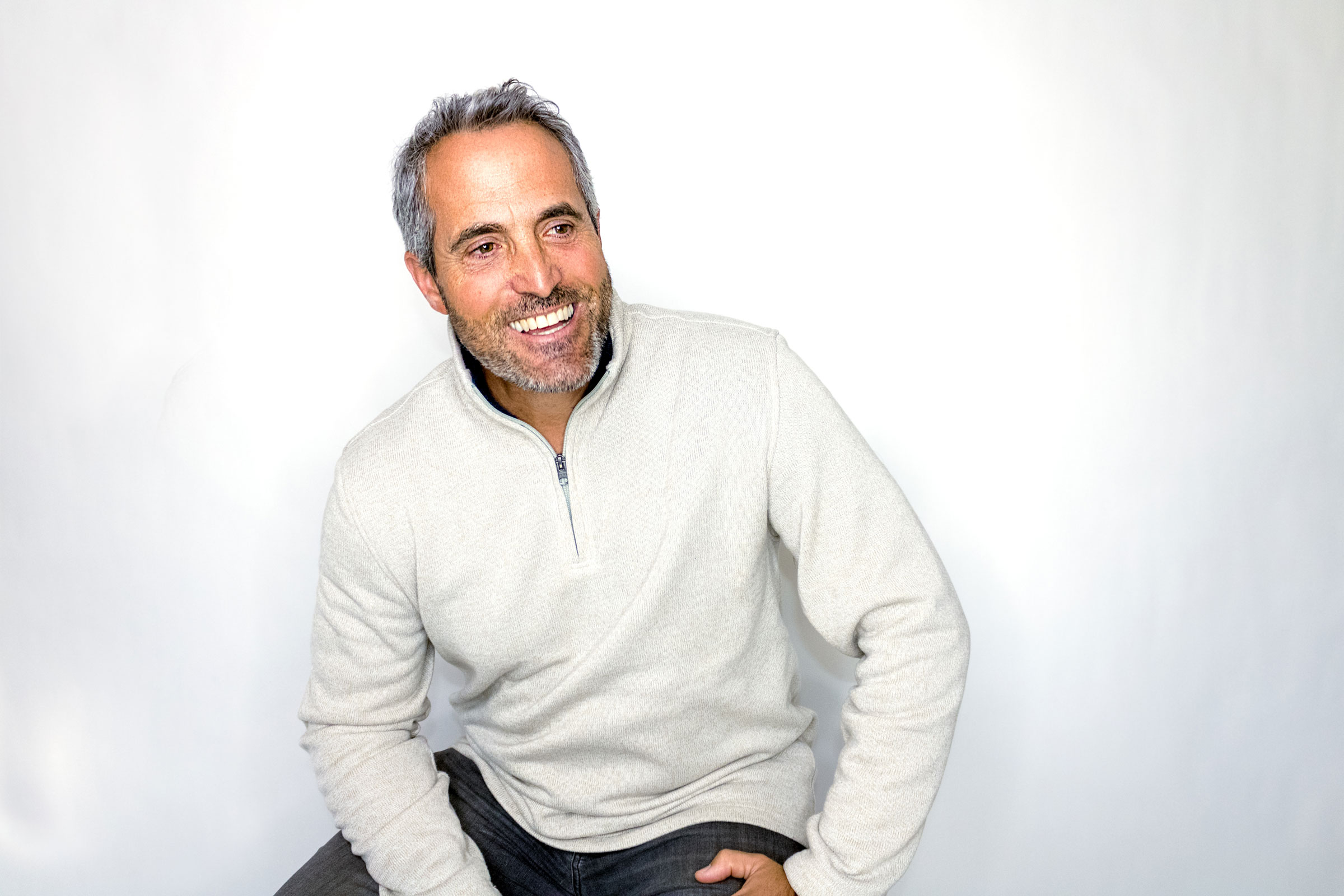 Nick Jacobs
President and Founder
Nick is President and Founder of Diverge Homes and affiliated companies. He founded the company in 2016 and oversees all operations, services, and developments. Specific responsibilities include site acquisition, building and site design, data science for, and financing of all projects.
Diverge Homes' founding vision remains in place today: to redevelop under-utilized parcels of land in and around American small towns, starting with Colorado. Nick structured the company so that architecture, amenities, and construction operations can be repeated with high consistency regardless of location.
Prior to Diverge Homes, Nick spent 17 years in telecommunications and technology, managing operations and sales for real estate acquisition, construction, hardware, and software. He received an M.A. from Utah State and a B.S. from Michigan State.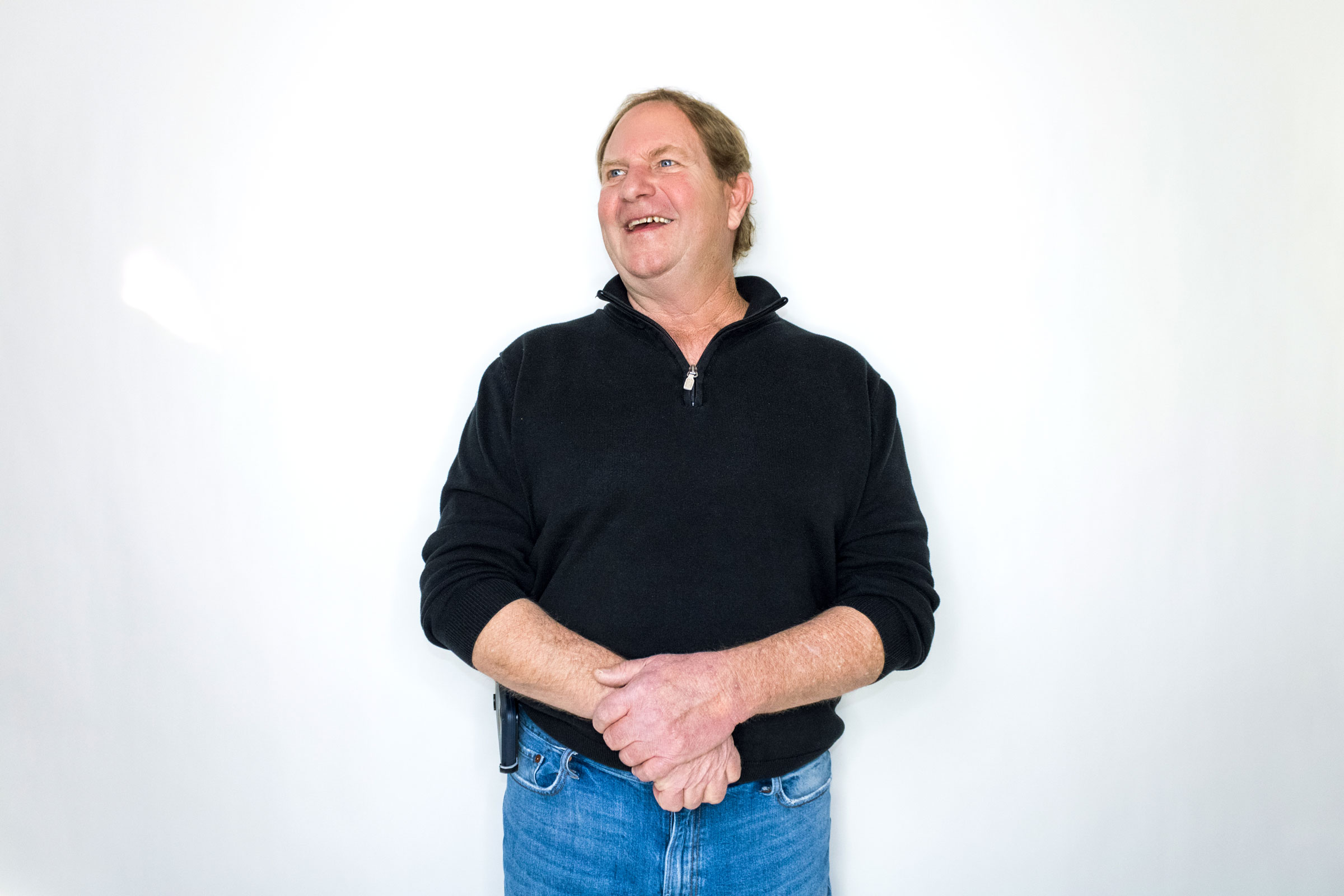 Ken Bailey
Construction Director
Ken is based in Boulder County, Colorado, and is responsible for all residential construction and operations. He has over 40 years in single and multifamily construction. Ken has led the design and construction of nearly 200 units in the Boulder and Denver metropolitan area.
Ken's strength is his artistic touch combined with the pragmatism of a veteran builder. Whether designing large custom homes or dozens of multifamily units, all buyers are guaranteed to receive the same level of attention and service that has led to Ken's reputation for excellence.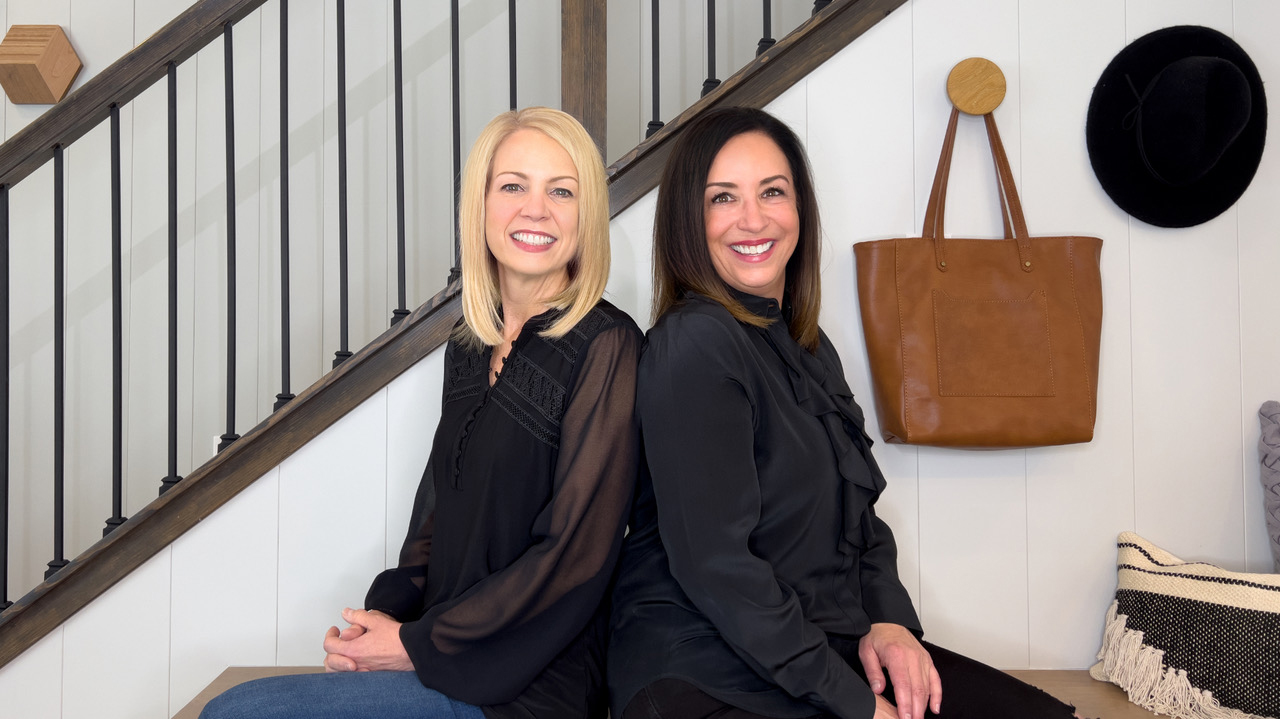 Stephanie Iannone and Mindy Nassar
The Iannone Group at Compass
Sales Team
With over $500 million in real estate transactions, The Iannone Group at Compass brings significant real estate brokerage experience to the Diverge team. Plus, they believe in our mission like no other. Our partnership with the Iannone Real Estate Group extends far beyond just sales brokerage and marketing. They consult and support Diverge Homes' development opportunities, providing invaluable input on everything from site plans, lot layouts, floor plan functionality, and interior design.
Stephanie Iannone, Owner & Managing Broker
Stephanie leads The Iannone Real Estate Group at Compass. Over the years, she has received numerous awards and recognition for her expertise. These include Distinguished Realtor of the Year, Top 25 Most Powerful Salespeople in Colorado, and for eight consecutive years, Stephanie has received Denver's Top Real Estate Agents Five Star Award. Her company has been named one of the Top 50 Woman-Owned Businesses in Colorado.
Stephanie's executive experience includes serving as a Director for the IRES regional MLS Board and Boulder Area Realtor Association, as well as Chair of the Boulder Chamber. She brings her passion and leadership to Diverge, where she and her team achieve extraordinary results on our projects.
Mindy Nassar, Broker Associate
A lifelong Coloradan, Mindy has witnessed the change and growth that has transformed the state into one of the most desirable places to live in the country. She is a wealth of experience in all aspects of the real estate industry, from mortgages to development to sales. However, it's meeting new people and helping clients find the perfect place to call home that she truly loves. She brings this love, along with her enthusiastic personality, professionalism, accessibility, and honesty to her work selling Diverge Homes.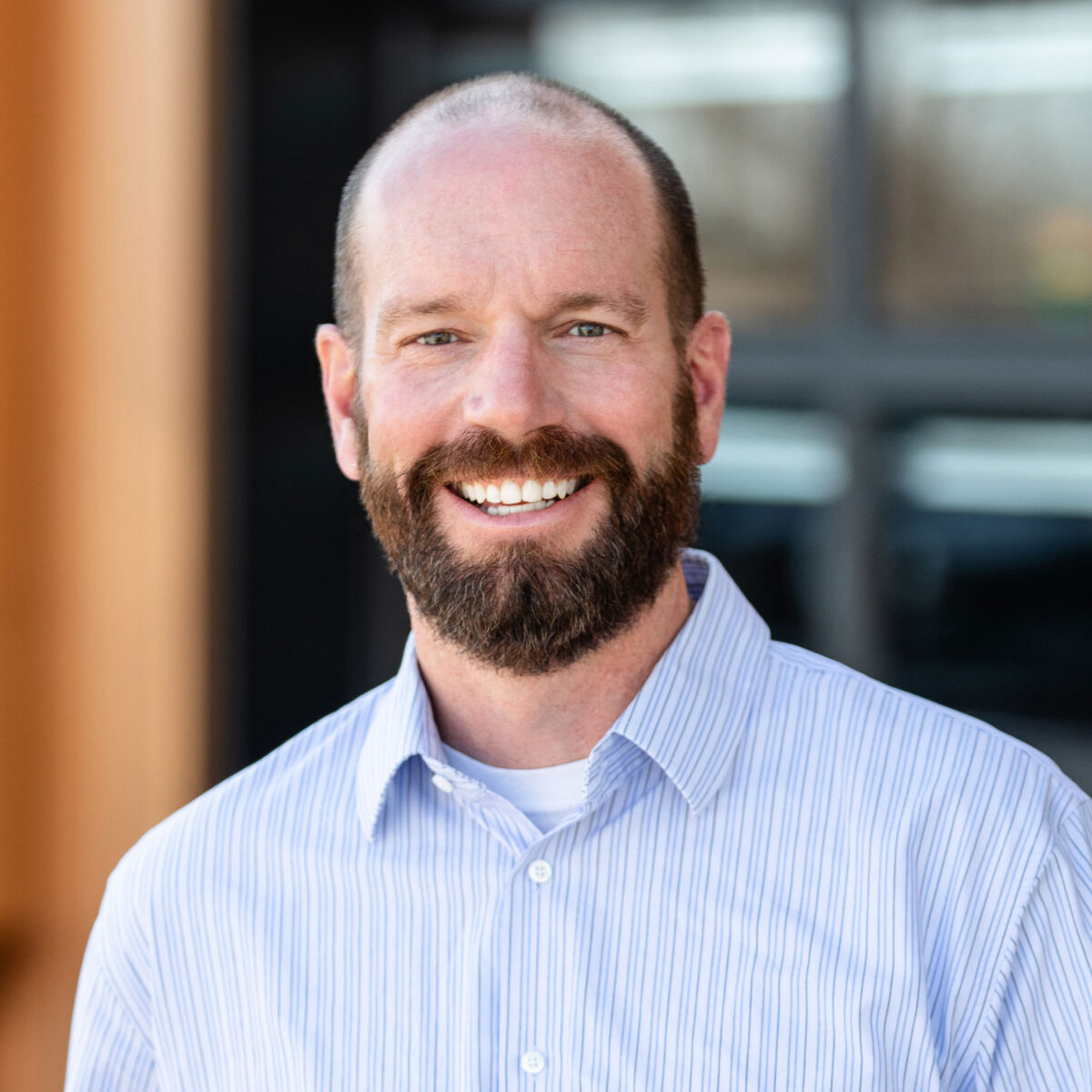 Jeff Hebeler
Sales Manager for Marshall Fire
Jeff Hebeler is a local Louisville resident and has lived on the Front Range for the past 27 years, successfully serving the area for 20 years in the real estate industry. A top producing broker, Jeff has been recognized by 5280 Magazine as one of Colorado's most highly rated professionals for 11 consecutive years. He has also been featured in Top Producer Magazine and has a perfect 5 star rating on Google Business. His personal contact, patience, and ability to listen to each client's unique set of requirements set him apart in the real estate world. Jeff's background in architecture provides him a strong sense of aesthetics and design in addition to a solid technical and creative foundation. Jeff makes the process of designing and building a home as easy, smooth, and expedient as possible while also ensuring that the homeowner ends up with beautiful and timeless finishes that they will love for years to come.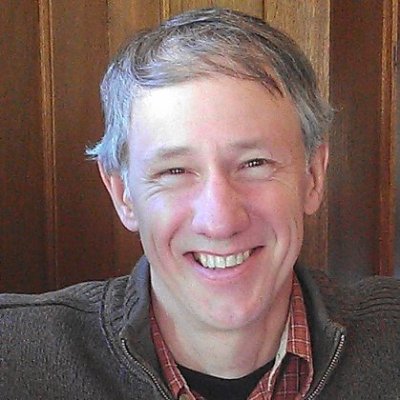 Stewart Architecture
Architecture & Design
Since 1992 Stewart Architecture has provided planning and architectural services for a diverse range of project types, including public, commercial, residential, land planning, and historic preservation. Their focus is on building community through sustainable planning and architecture. The firm believes sustainability includes preservation of our energy, natural, and cultural resources.
Based in Louisville, Stewart Architecture is recognized for its cultural heritage and preservation work with numerous awards. These include the Stephen H. Hart Award of the Colorado State Historical Society and the Colorado Preservation Inc. Dana Crawford Award for Excellence.
Peter Stewart, Founder and Principal
Peter has practiced architecture in Colorado for 30 years, planning and implementing historic and sustainable neighborhood and home design projects. He is a passionate advocate for the reuse of existing structures and resources. He leads the way in reuse while never compromising modern adaptations and energy performance in his numerous residential, commercial, and public projects. Peter's sensitivity to local community and context distinguish him and his firm. With Diverge, Peter designs quality neighborhoods and homes that create a sense of place where people want to live, work, and play.
Kelsey Tessier, Architect
Kelsey develops architectural designs for Diverge Homes, as well as the construction documents and permit submissions. A Colorado native, Kelsey has been with Stewart Architecture for six years. She received her masters' degree in Architecture from Montana State University in Bozeman. Kelsey has a variety of experience in residential, historic preservation, and small commercial architecture. She especially enjoys pushing the limits of design to create unexpected solutions. Outside of architecture, Kelsey loves playing soccer and do-it-yourself home improvement projects.